Visitors at the Lean-To on Rossmann Hill, Long Path Section 30
History
The Long Path: The foot trail from the George Washington Bridge to the Mohawk River on its way to the Adirondacks.
In 1920, the New York-New Jersey Trail Conference was formed when various hiking groups joined together to form a system of marked hiking trails. Today, this network consists of more than 2,000 miles of hiking trails extending from the Connecticut border to the Delaware River. During the 1930s, a plan was developed by Vincent J. Schaefer of the Mohawk Valley Hiking Club and others to connect the southern New York trails with the Adirondack trail system. This proposed trail was to be named "The Long Path," and for more than 60 years it was a dream of many hikers. Volunteers worked for many years to bring the Path from the George Washington Bridge north to the Catskill Park to "hook up" on DEC's trail system.
In 1991, through the efforts and guidance of the New York-New Jersey Trail Conference, a "Long Path North" committee was formed consisting of local volunteers who have dedicated themselves to develop and maintain the Path from the High Peaks of the Catskill Mountains in Greene County to the Blenheim-Gilboa Visitor's Center, over the Eminence State Forest, past Looking Glass Pond , to Vroman's Nose, on to the Cliffs of Middleburgh, through Partridge Run Game Management Area, into John Boyd Thatcher State Park, and northward to the Mohawk River.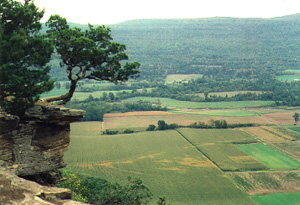 Hanging Out at Vroman's Nose, Long Path Section 31

There was much interest created in the area with the committee's activities, and much support was garnered with the group's ambition of connecting the Long Path to the Lake Placid Trail Complex in the Adirondacks. On February 5, 1994, the Long Path North Hiking Club was organized. The Club was to take over the construction and maintenance of the Path from the High Peaks of Greene County with plans to complete the trail to the Mohawk River on its way north.
The Club now has over 200 members, and their goal to complete the Path to the Saratoga County line is complete. The Club sponsors many organized hikes during all seasons of the year and takes part in many outdoor shows and activities.